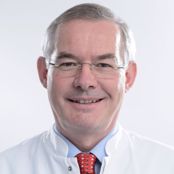 Christoph Wanner
Chairman
University Hospital of Würzburg

Würzburg, Germany
Christoph Wanner is Professor of Medicine and Chief of the Division of Nephrology and Hypertension at the University Hospital of Würzburg, Germany. Dr. Wanner's areas of interest are metabolic disorders and cardiovascular outcomes in patients with diabetic kidney and other rare diseases. He has served as the principal investigator of the 4D Study and as a steering committee member of the EMPA-REG OUTCOME study as well as the central European coordinator of the SHARP- and EMPA-KIDNEY study.
He has published more than 700 scientific articles. He served as editor-in-chief for the Journal of Renal Nutrition and as Associate Editor of Clinical Journal of the ASN.
He also served as chair of the European Renal Registry of the ERA-EDTA (2009-2015). In 2007 he received the International Distinguished Medal of the National Kidney Foundation. Dr. Wanner is an honorary member of the Polish Society of Nephrology and received a doctor honoris causa from the Charles University Prague in 2012. He is currently the president-elect of the ERA-EDTA.
back to overview